Today, the 8th of March, is International Women's Day. In celebration, Nicholes Family Lawyers will be joining the Women's Information and Referral Exchange, also known as WIRE, in their International Women's Day Panel Discussion this afternoon. This year's event is themed around 'conversations' and why conversation can be powerful in reducing violence against women and changing the attitude of communities.
The conversation will be facilitated by WIRE's Conversation Kit co-creator, Jessica Stott. We expect some incredible and enlightening experiences will be shared by outstanding speakers including:
Activist and educator, Sally Golder AM, who was recently awarded an Order of Australia.
WIRE volunteer support worker and co-chair of Unchain My Heart, Yael Hersham. Unchain My Heart is an organisation working to advance the social welfare of Australian Jewish women.
Graduate of Democracy in Colour's first Young Muslim Fellowship, Mehwish Nawaz, who is also a single mother who has survived domestic violence.
WIRE is an information and referral service and is the only Victoria-wide free generalist information, support and referral service run by women and non-binary people for women, non-binary and gender-diverse people.
Nicholes Family Lawyers are proud to be longstanding supporters of WIRE, with Managing Partner Sally Nicholes assisting the organisation for over 20 years. Our firm has had a long association with WIRE and continues to provide pro bono support for in-house clinics providing women with advice.
Our team of solicitors also volunteer with WIRE on a regular basis to ensure that women in need have access to quality family law advice. Nicholes Family Lawyers also provide facts sheets, offering women further means to inform themselves of their rights and options in complex legal and non-legal matters.
Our ongoing support of WIRE has included partnering in the past to deliver free informational seminars covering topics of child safety and access, dealing with the Family Court and intervention orders. Recently, Partner Sally Nicholes presented at WIRE on the topic of elder abuse and the types of legal protections and available. WIRE CEO, Julie Kun, facilitated this lively and productive discussion.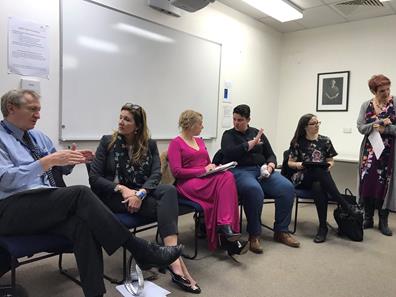 We look forward to continuing and strengthening our decades-long partnership with WIRE and delivering the shared vision where women are safe, respected, valued, informed, empowered and free to make genuine choices in their lives.
If you are a woman, non-binary or gender-diverse person in need of free legal assistance or even just general advice with non-legal issues such as seeking employment, financial literacy or computer classes, you can get in touch with WIRE by:
In celebration of International Women's Day, consider supporting WIRE. All donations above $2.00 are tax deductible.