Nicholes Family Lawyers were delighted to host the Equality Project's launch of Better Together 2020 on 4 June 2019!
The Equality Project is an organisation that promotes LGBTIQ+ advocacy, helping the community to speak with a common voice through their national conferences and training academies.
The 3rd and latest conference is Better Together 2020 to be held in Melbourne at Williamstown Town Hall on 10-11 January 2020. And for the first time, the Trans & Gender Diverse Caucus will be held for a full day on 9th January 2020.
The launch was facilitated by Rebecca Dahl, Partner at Nicholes Family Lawyers, who regularly works to help The Equality Project and the wider LGBTIQ+ community.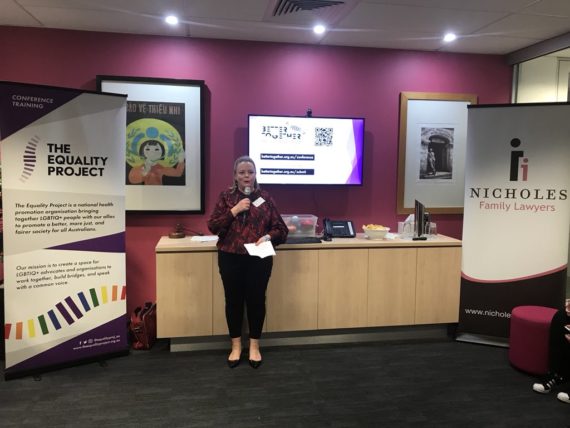 At the launch, there were several speakers including Jason Tuazon-McCheyne, the founder of The Equality Project who spoke about the profound effect these conferences and training sessions have on participants. He also spoke of the importance of promoting cooperation, participation and mutual respect between LGBTIQ+ individuals and communities in Australia.
In addition, we heard from community cultural facilitator Azlan Petra who discussed the issues LGBTIQ+ of different ethnic and racial backgrounds face in Australia.
We also heard from Cameron Bloomfield, member of Rainbow Rights and Advocacy, a self-advocacy group run by and for people with an intellectual disability who identify as LGBTIQ. Who spoke with Nathan Despott, founder of the Brave Network Melbourne, about the adversity faced by LGBTIQ+ people with disabilities.
We also heard from Ruby Mountford, Paul Sanderson and Zay Canters about their individual experiences with the Equality Project's programs. This conference is about giving a space to facilitate the conversation about LGBTIQ+ rights in Australia and the more voices the more powerful the conversation can become. There is currently a special launch price until 30 June 2019. You can purchase a ticket here.
Alternatively, you can make a tax-deductible donation to The Equality Project to provide scholarships for attendees, wheelchair accessibility and Auslan interpreting services here.