At Nicholes Family Lawyers, we are an LGBTIQ+ friendly law firm with a specialist focus on issues affecting LGBTIQ+ communities and the surrounding law.
To better improve our practice, on 17 January 2019 we welcomed Rei Alphonso from Thorne Harbour Health to discuss how we can best deliver inclusive services moving forward. Thorne Harbour Health works to reduce stigma and discrimination of LGBTI people, while delivering health and wellbeing programs.
Our session with Alphonso began with them discussing the heteronormative assumptions that exist in our society, regarding sex, gender and sexuality. They introduced to us the Wedding Cake Model: that everyone is born a male or female; that everyone identifies with the gender assigned to them at birth; and that everyone is attracted to a person of the opposite sex. Alphonso then addressed the impact this 'default script' can have on LGBTI people and the risk factors that can follow.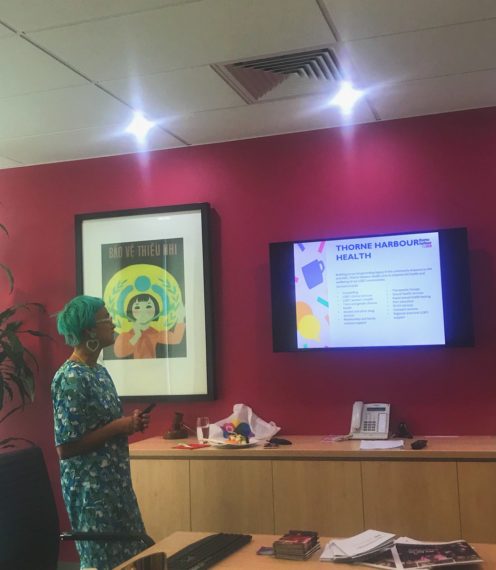 To illustrate each point, the Nicholes team were shown two short videos. The first, Trans 101, was an elementary introduction to what it means to be transgender or gender diverse, through the lens of young people. The second was a speech by Irish Drag Queen, Panti Bliss, who became the inadvertent face of the Irish referendum on same-sex marriage after her speech on the topic went viral. As Alphonso noted, "it captures the impact of heteronormative assumptions and the impact of internalising these."
Alphonso then used this video as a springboard to discuss the vulnerabilities that more acutely exist within LGBTI communities. These vulnerabilities can prevent many from recognising violence and engaging support services, meaning services must be proactive in making their inclusive position known. As Alphonso noted, support services that are not known to be inclusive of LGBTI communities, are often presumed to be inaccessible.
Nicholes Family Lawyers continues to work with Thorne Harbour to better support LGBTIQ+ people at all points throughout their family law journey, including recognising help-seeking risks and making appropriate referrals.