In celebration of International Women's Day on the 8th of March, we wanted to reflect on the work Nicholes Family Lawyers has done with Victorian Women Lawyers (VWL). VWL is an organisation for female legal practitioners which is dedicated to assisting female lawyers in in achieving a satisfying and successful professional life. One of VWL's key objectives is to promote the understanding and support of women's legal and human rights.
Nicholes Family Lawyers is a proud associate sponsor of VWL. In addition to being an associate sponsor, we also partner with VWL to host panels and seminars on a number of topics affecting women.
We are delighted to present an upcoming panel discussion on the 21st of March 2019 on the emergence of the online world and its impact on the legal system, with a particular focus on family law. It should be an evening of lively discussion with drinks and light refreshments. Partner of Nicholes Family Lawyers Rebecca Dahl will be part of the panel along with Clinical Psychologist Dr Catherine Boland, WIRE CEO Julie Kun and Victorian Barrister Emma Heggie.
In 2018, Nicholes partnered with VWL to host a panel discussion on employers supporting employees experiencing family violence. The panel discussion covered the variety of avenues open to victims of family violence and how the family law provisions on parent and property matters intersects with family violence. Managing Partner Sally Nicholes was part of the panel along with then CEO of Domestic Violence Victoria Fiona McCormack, WIRE CEO Julie Kun and Associate Director of Human Resources at K&L Gates Clare Monger. Sally discussed the fear clients can experience at the prospect of repercussions flowing from separation.
In 2016, Nicholes Family lawyers held a panel on the risk of vicarious trauma to lawyers and allied professionals, in conjunction with VWL. Participants were given tools and strategies for dealing with these issues in their own practices. The panel of speakers were moderated by Sally Nicholes; speakers included a judge, a clinical psychologist and other prominent figures.
Sally Nicholes has also been featured the 2016, 2017 and 2018 editions of Portia, the annual journal and report of VWL. In these editions, Sally has highlighted a range of topics. Most recently, in the 2018 edition, Nicholes Family Lawyers explored how we show leadership in the law. In the 2017 edition we explored Nicholes Family Lawyers' role in providing cultural change to support the gender imbalance amongst barristers. In the 2016 edition, Sally Nicholes wrote of the professional boundaries faced by women in the law.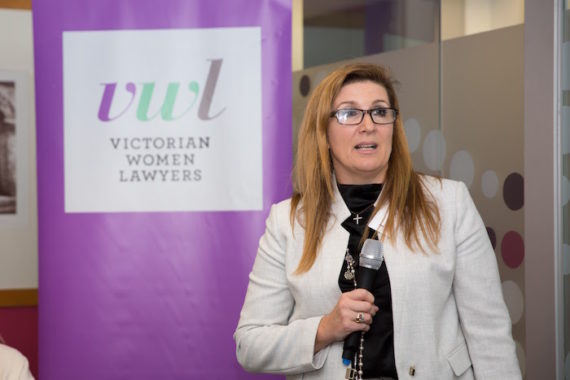 Nicholes Family Lawyers looks forward to continuing to collaborate with VWL. Maintaining discussion and evaluation of issues affecting the lives of women, both professionally and in every-day life, helps to effect positive change.
If you are a woman working in the area of law, consider joining VWL. Members enjoy the benefit of rewarding programs specially designed to facilitate women's advancement in the law, the chance to views on social justice issues affecting women working in the law; and a host of other benefits.