We have significant experience in advising Schools & Child Care centres in relation to managing Family Law issues. As people working on the front line with families, these institutions can find themselves unfortunately embroiled in Family Law Disputes. As such, Nicholes Family Lawyers have advised schools in relation to issues such as:
Interpreting Orders
Who has Parental Responsibility for students and about what issues
Changeovers at schools
Family Violence and Intervention Orders
Obligations on Schools and Staff
Child Protection
Provision of information to parents and authorities
Philanthropy and Schools – related advocacy and NGO Involvement
Managing Partner Sally Nicholes also demonstrated her commitment to the intersection of Family Law and Schools in her capacity as Chair of the Lasallian Foundation from 2007-2018. The Lasallian Foundation is an organisation supporting development projects in the Asia Pacific region and more recently in South Sudan, which works to make a sustainable difference by giving children the opportunity to realise their full human potential and break the poverty cycle, which has plagued their families and communities for generations.
Presentations
Nicholes Family Lawyers also regularly present at schools and conferences for teachers and school administrators in relation to these matters.
One such presentation was a Schools seminar on cybersafety, with speakers from the Alannah & Madeline Foundation, Nick Duggal from Moray & Agnew Lawyers, Victoria Police and Managing Partner Sally Nicholes. In attendance were representatives from schools from a cross section of Melbourne and the greater region.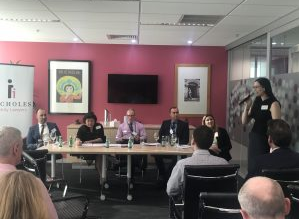 Below are a few recent reviews received by Nadine Udorovic, Partner, and Catherine Giles, Senior Associate, regarding a presentation at Legalwise School of Law Conference in March 2020:
"My colleague and I both felt it was one of the best we have attended, it is hard as senior advisers to get meaningful CPD and we certainly did on this occasion."

"I wished to pass on my appreciation for the excellent seminar on what is a subject of significant legal and public importance. The presenters were all highly experienced and they each spoke articulately and informatively on their respective topics."


Child Protection
Nicholes Family Lawyers has also been discussing the issues which arise in relation to child protection amidst COVID-19 in our new podcast series. In our second episode, Associate Andrea Bunn discusses how the Department of Health and Human Services (DHHS) and the Courts have modified and adapted their services in response to the COVID-19 pandemic, with a particular focus on child protection matters. Listen to this episode here: https://nicholeslaw.com.au/podcasts/
We have produced and can distribute several 'Child Protection' fact sheets to our institutional child protection clients and parents, which act as an informative guide for those who are navigating child protection issues.