Nicholes Family Lawyers is experienced in advising multigenerational family businesses when considering family law advice. We know family businesses are often complex and political, requiring a family lawyer who can not only digest complex family structures but is also sensitive to the challenges of a family business and family stakeholders.
Some of the key differences we notice with our family business clients include:
An understanding that in a family business the line between family and business is often blurred.
Due to the family business environment complete business records and minutes of meetings are not always maintained.
One of the major concerns for parents involved in a family business is to protect the family wealth.
Often serious discussions including separation need to include multiple family members as they have a joint vested interest in the business.
Understanding these differences are critical to providing sensitive, practical, responsive, and commercially astute advice to a family business.
It is our experience that family law advice is not often considered through the journey of the family business and when it is considered, it may be too late. This can often put at risk, the legacy of past generations' hard work and sacrifice and reduce the wealth transferred to the next generation. Asset protection is a major consideration for our family business clients and we often partner with estate planning lawyers to address our clients' needs.
Some of the asset protection strategies we can provide a family business include:
Starting a discussion with and providing advice to the next generation of family coming through the business regarding family law risks and future relationship pitfalls.
Preparation of Binding Financial Agreements to keep the wealth in the family and safe from opportunistic partners and spouses.
Consulting with external estate advisory in the establishment of testamentary trusts.
Facilitate discussions between cross generational family members regarding the intersection between financial planning and family law.
Any other family law matter that may impact your business.
Our firm has an active association with Family Business Australia (FBA) and shares FBA's commitment to the success and evolution of the family business community.
Whilst all of our lawyers are experienced in family business, our Partner Nadine Udorovic and Senior Associate Kate Bell are both members of FBA and have worked within complex family businesses. When you grow up talking family business around the dinner table it provides for a unique level of understanding and appreciation for the commercial reality of family businesses.
If you are a small or first generation family business through to a multigenerational large family business with a family office we can assist. Please reach out to us to arrange a consultation.
PRESENTATIONS
Managing Partner Sally Nicholes has presented to key stakeholders in Family Business Law, such as Commonwealth Bank and Westpac. In these presentations, Sally has discussed the intersection between Family Law and commercial realities, including managing the interests of high wealth clients with associated Family Businesses.
Intergenerational Wealth and Succession Planning Seminar
One such presentation included the Hermes Capital Australia webinar event in late 2020 which discussed the topic of intergenerational wealth and succession planning for family businesses during COVID-19. Sally spoke alongside Hermes' Director Nicholas Samios and dVT Group's Senior Advisor Mark Robinson.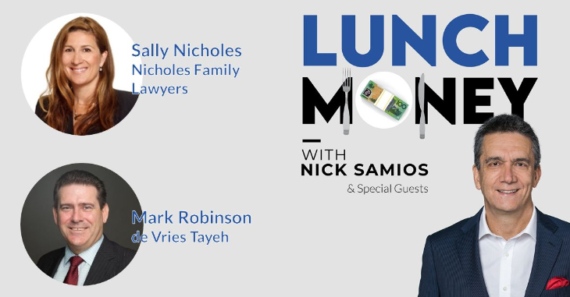 Helpful and relevant links
Family Business Australia
https://www.familybusiness.org.au/
PODCASTS
Episode 4: Australia's Economic Response to COVID-19: in conversation with Trevor Dymond
Episode 9: The effect of COVID-19 on Business Valuations in Family Law
BLOGS
The Effect of COVID-19 on Business Valuations:
Family Business Operating or investing Internationally
When a family business extends its reach past domestic into the international market it often results in multiple international laws and jurisdictions to be considered. We have a dedicated international practice group to address these concerns and provide advice on the international complexities of the family business. Further information regarding our international practice group can be found here https://nicholeslaw.com.au/our-expertise/international-family-law-dispute/