There are many options for same sex couples starting their own families, including in vitro fertilisation, donor insemination at a clinic, surrogacy or using a home procedure for donor insemination.
Nicholes Family Lawyers can provide advice in relation to the potentially complex legal issues that may arise in relation to starting families, as well as other family issues affecting the LGBTIQA+ community including parenting disputes, property settlements and Binding Financial Agreements.
At Nicholes Family Lawyers we have a specialist LGBTIQA+ group of lawyer's led by Partner Bec Dahl with a particular focus on and insight into issues affecting LGBTIQA+ communities and the surrounding law.
Senior Associate Catherine Giles runs the LGBTIQA+ family law legal advice clinic at the Fitzroy Legal Service each month.
Donor Agreements
A man who donates his genetic material to a woman who is in a de facto relationship, is presumed for all purposes not to be the father of any child born as a result. This is regardless of whether or not the man is known to the woman and/or her partner.
Donor agreements, although not legally binding, set out the intentions of parties as parents and/or sperm donors and the relationship (if any) the child will have with the sperm donor. Donor agreements can provide evidence of the intentions of the parties in relation to conceiving and raising the child and guidance to a court determining what is in the child's best interests should a dispute arise between the mother and the sperm donor. It is very important that a donor agreement is entered into where a male provides his genetic material to assist in the conception of a child. The bests interests of a child will, however, always prevail when a Court is making a decision about arrangements for a child.
Nicholes Family Lawyers work together with other professionals such as expert mediators and psychologists who have experience in LGBTIQA+ matters, and are familiar with the special legal and non-legal issues parties are likely to encounter. We assist in developing and preparing such agreements and discussing future care arrangements of the child conceived.
Parentage

In recent years, the law has changed so that a non-biological mother in a same-sex relationship can be legally recognised as a parent. Therefore, women in a same-sex relationship who undergo either IVF treatment or self-insemination to conceive a child, can both have the legal status of a parent. There is no longer any legal distinction between parents in same-sex relationships and parents in heterosexual relationships.
There are three important points to keep in mind when determining the parentage of a child born of a lesbian relationship:
A woman who gives birth to a child is presumed to be the mother of any child born as a result of the pregnancy;
The birth mother's female partner will be considered to be the legal parent of the child born, so long as she and the child's biological mother were living together as a couple on a genuine domestic basis when the IVF/self-insemination was performed; and
The female partner must have consented to the IVF procedure.
Therefore lesbian couples can now be recorded as the child's parents on the birth certificate of their donor-conceived child. The birth certificate now refers to the biological mother as the "mother" and to her partner as a "parent".
The sperm donor can also be listed on a child's birth certificate as the father or on an addendum to the child's birth certificate as "sperm donor". When making these decisions, you should consider the legal implications including the effect on your dealings with government agencies such as Medicare, Centrelink and the Passport office. Nicholes Family Lawyers can provide you with advice in relation to these potentially complex issues.
Assisted reproduction / IVF
If you would like legal advice in relation to IVF, including your rights to include specific conditions in your consent to treatment, your right to vary your consent and the legal ramifications of various decisions, we will treat your enquiry with strict confidence.
---
Partner Bec Dahl and Chicks Talking Footy awarded the Globe Networking Media Excellence Award 2019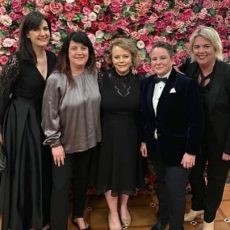 A recent Tweet from the website of the popular radio program on JOY94.9, Chicks Talking Footy, reads:
We won the @globenetworking Media Excellence Award 2019! Thank you to @joy949 for the opportunity to give @AFL and @aflwomens a voice to our LGBTIQA+ Community. We are delighted to do what we love. Footy means so much to so many.
Nicholes Family Lawyers Partner Bec Dahl (pictured above centre) is one of the presenters of this popular radio show and was there to accept this award on the night of 11 October 2019 when the GLOBE awards were announced.
The Globe community awards recognise the inspirational work done by many contributors to enhance Victoria's gay, lesbian, transgender and intersex communities. This was the sixth time this award ceremony has been held, and this year, GLOBE president Dan De Rochefort opened the event by telling the nominees and finalists that he wanted to congratulate them, telling them "every single one of you is important to our community and we are so proud of you".
Our firm, Nicholes Family Lawyers, is particularly proud of our Bec's contribution to this important program. Bec has been involved in this program since its inception in 2016. Anyone who has listened to the program will know that she thoroughly enjoys her broadcasting. She is very knowledgeable about footy and as an original South Australian, she naturally barracks for the Adelaide Crows.
The program has been instrumental in promoting women and the LGBTIQA+ community in football, particularly with their broadcasts of the AFL and AFLW Pride Grames.
Our warm congratulations go to Bec, the Chicks Talking Footy Team, and to all the GLOBE community award winners for 2019. We hope they go from strength to strength!
---
NFL Supporting Events
Diversity Series 2020 – 'The World Post Marriage Equality'

It is with great pride and honour that Nicholes Family Lawyers worked in conjunction with Victorian Women Lawyers to present the first event in their Diversity Series for 2020 – "The World Post Marriage Equality".
This event comprised an open panel discussion covering relevant issues that have arisen in relation to rainbow families following the postal survey of 2017. The panel took place on Wednesday the 11th of March, at Nicholes Family Lawyers, Level 12/460 Lonsdale St. Our panellists comprised a range of professionals who have all played critical roles in the LGBTQIA+ field.
---
The Equality Project
Nicholes Family Lawyers are proud supporters of The Equality Project.
The Equality Project is an organisation committed to bringing together LGBTIQ+ people with their allies to advocate for a better, more just, and fairer society for all.

In January 2018 Partner Bec Dahl and Managing Partner Sally Nicholes presented at the Equality Project's Better Together Conference alongside Justice Alexandra Harland, Forensic Psychologist Robert Simon and Louise Johnson from the Victorian Assisted Reproductive Treatment Authority. The national conference held in Melbourne explored current issues facing the LGBTIQA+ movement and focused on intersectional discussion. You can read more about the event on our blog.
In 2019 Bec presented at the 2nd Annual Better Together Conference which was held in Sydney. She participated in a panel discussion on LGBTIQA+ Families alongside Robert Simon and Alison Delpercio.
Dance Cats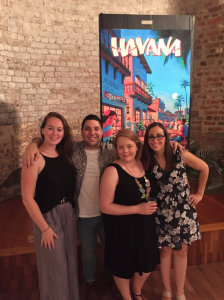 Since 2015, Nicholes Family Lawyers have supported the Australian Same Sex Dancesport Championships through our involvement with Dance Cats.
Many of our staff and friends attended the event in February 2018 and enjoyed a night celebrating Australia's diverse community, whilst witnessing a showcase of Australia's best same-sex dancers compete for top honours.
---
Presentations
TEN – First LGBTI Conference
Partner Bec Dahl and Managing Partner Sally Nicholes both presented at the Television Education Network's First Annual LGBTI Legal and Regulatory Conference held in Melbourne in May of 2017.
On the first day of the conference Sally alongside Dr Michelle Telfer spoke on special medical procedures for transgender teenagers.
On the second day of the conference Bec addressed the issue of Domestic Violence in the LGBTI Community discussing the different forms of family violence and the impact of family violence on property proceedings.