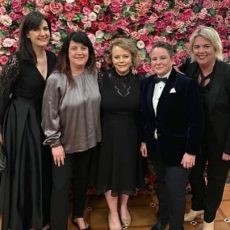 A recent Tweet from the website of the popular radio program on JOY94.9, Chicks Talking Footy, reads:
We won the @globenetworking Media Excellence Award 2019! Thank you to @joy949 for the opportunity to give @AFL and @aflwomens a voice to our LGBTIQA+ Community. We are delighted to do what we love. Footy means so much to so many.
Nicholes Family Lawyers Partner Bec Dahl (pictured above centre) is one of the presenters of this popular radio show and was there to accept this award on the night of 11 October 2019 when the GLOBE awards were announced.
The Globe community awards recognise the inspirational work done by many contributors to enhance Victoria's gay, lesbian, transgender and intersex communities. This was the sixth time this award ceremony has been held, and this year, GLOBE president Dan De Rochefort opened the event by telling the nominees and finalists that he wanted to congratulate them, telling them "every single one of you is important to our community and we are so proud of you".
Our firm, Nicholes Family Lawyers, is particularly proud of our Bec's contribution to this important program. Bec has been involved in this program since its inception in 2016. Anyone who has listened to the program will know that she thoroughly enjoys her broadcasting. She is very knowledgeable about footy and as an original South Australian, she naturally barracks for the Adelaide Crows.
The program has been instrumental in promoting women and the LGBTIQA+ community in football, particularly with their broadcasts of the AFL and AFLW Pride Games.
Our warm congratulations go to Bec, the Chicks Talking Footy Team, and to all the GLOBE community award winners for 2019. We hope they go from strength to strength!