Areas of Expertise
Sally is the founder and Managing Partner at Nicholes Family Lawyers. She has practised exclusively in family law since 1995 and is recognised within Australia and internationally as a leading family lawyer..
Whilst Sally has extensive experience in all areas of family law, she has particular expertise in international family law disputes, and financial settlements including complex property matters.
As well as acting for a range of corporate, institutional and private clients, Sally and her firm have a strong and active commitment to pro bono work, both at home and abroad.
Sally's specialties include:
Family law disputes dealing with complex corporate and trust structures and financial restructuring combining succession planning/estate planning with corporate restructures – both within Australia and internationally
Complex property settlements and litigation
Same-sex relationship, parenting or financial agreements
De facto cohabitation and pre-nuptial agreements
Complex parenting arrangements, including multi-party or high conflict disputes
Child support matters
International child abduction
Inter-country adoption
International and domestic relocation disputes
Complex child welfare issues including special medical procedures such as gender reassignment or body tissue donations
Collaborative law
Sally also speaks German.
Professional Experience
Sally has extensive involvement in international child abduction matters and was awarded a Certificate of Appreciation by the United States National Centre for Missing and Exploited Children and the Australian Federal Police for her work on an operation that resulted in the successful location of an abducted child.  Sally also has extensive involvement in special medical procedure applications, handling out-of-court settlements of both financial and children's family law matters and handling contested hearing and appeal cases.
Qualifications
Bachelor of Arts/Law – University of Melbourne
Accredited Independent Children's Lawyer
Accredited in Collaborative Law – Law Institute of Victoria 
Accredited arbitrator with the Australian Institute of Family Law Arbitrators and Mediators (AIFLAM)

Memberships and Awards
Sally is a member of the Family Law Section of the Law Institute of Victoria (LIV), the LIV Children and Youth Issues Committee, the Collaborative Law Section, the International Academy of Family Lawyers, and the Family Law Section of the Law Council of Australia and a Fellow of the International Academy of Family Lawyers. She is also the Deputy Chair of the Board of the World Congress on Family Law and Children's Rights, Deputy Chair of the Lasallian Foundation. She and fellow former Chief Justice of the Family Court, the Hon Alastair Nicholson, recently worked in Cambodia to establish their first child friendly justice system through an advocacy non for profit called Children's Rights International.
Throughout her career, Sally's work has been recognised both within Australia and internationally. Most recently, she was awarded by the prestigious and independent Doyle's Guide to Leading Australian Lawyers as a "Leading Parenting & Children's Matters Lawyer – Victoria 2020". Nicholes Family Lawyers was also recognised by Doyle's Guide as a "Leading Family & Divorce Law Firm – Melbourne in 2021 and 2020". Sally is also a regular presenter at conferences and workshops and appears weekly on Melbourne radio discussing family law.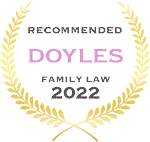 2022 Doyle's Guide – Leading Parenting & Children's Matters Lawyers, Melbourne
2021 Doyle's Guide – Leading Family & Divorce Law Firm Melbourne
2020 Doyle's Guide to Leading Australian Lawyers – Leading Parenting & Children's Matters Lawyer Victoria 
2020 Doyle's Guide to Leading Australian Lawyers – Leading Family & Divorce Law Firm Melbourne
2018 Doyle's Guide – Leading Parenting & Children's Matters Lawyers Victoria
2010 Telstra Business Women's Awards – Victorian Finalist, Commonwealth Bank Business Award
2010 Telstra Business Women's Awards – Victorian Finalist, Nokia Business Innovation Award
2007 Rogers Legal Writing Award (Highly commended)
2005 Rogers Legal Writing Award (Highly commended)